Leaflets & Brochure Design
A beautifully designed leaflet or brochure is a great tangible asset to any business.
Display your products or services in a well designed, tactile brochure. Entice your customer to browse glossy images while scanning well-written content in a quality product, giving your business a polished professional look.
Whether you are starting a business or looking to update your existing leaflet or brochure, we can produce a unique branded design, with a layout to attract more customers.
We understand leaflets and brochures need to be pleasing to the eye, with easily digestible information and designed well enough for your customers to take home and share with others. We have worked on several projects in the past which incorporate all of these elements into the final product.
If you are interested in using InSynch for your Leaflet or Brochure design, please get in touch for a quote. We can also provide costs on printing.
Case studies
We understand that businesses and organizations still require printed products for a reason, to bring in business, sell products or communicate with customers. All designs are developed with business goals in mind.
Take your business further, Get in touch today!
Take your business further, Get in touch today!
What our Customers say about us..
Google Ads
InSynch manages Google Ads campaigns for all types of businesses across the UK.
"Monthly sales through the shop have doubled since they started…" – John Duffus (Agritel)
What our Customers say about us..
Social Media Marketing
InSynch offers a comprehensive, bespoke and strategic approach to Social Media Marketing.
"InSynch have been instrumental in helping us attract visitors from social media… bringing in over 120,000 visitors to our Website from various social media campaigns." – Bob Van Mook (Award Medals)
What our Customers say about us..
Search Engine Optimisation
Looking to get more traffic to your Website?
Search Engine Optimisation is one of the most cost-effective ways of doing so.
"Hit number 1 of page 1 of Google after only 5 days of going live!" - Ian Vivers (Aquaroof)
What our Customers say about us..
Graphic Design
InSynch offers Graphic Design for new logos, business stationery, display adverts, leaflets and more!
"I found that the Graphic Design service at InSynch exceeded expectations." - Ted Trewella (Aberystwyth Milk Company)
What our Customers say about us..
Email Marketing
Reach new and repeat customers with comprehensive Email Marketing campaigns.
"They already making a real difference to our business." - Simon Dennis (Gwynedd)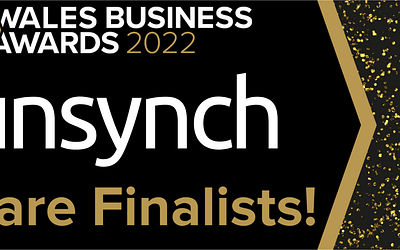 The finalists have been revealed for this year's Digital Business of the Year at the Wales Business Awards 2022, and we're happy to announce that InSynch are finalists! This award celebrates businesses that have used digital technology to improve their business...
read more