Despite the flooding and last-minute change of venue, it was fantastic to see so many people attend our Digital Marketing Course for Managers and Small Business Owners.
InSynch has been working alongside Marches Growth Hub to deliver courses detailing a wide range of industry tips and techniques along with a strategic approach for using Digital Marketing to achieve business goals.
The courses are aimed at business owners and managers, or those responsible for digital marketing in a business. It aims to leave delegates feeling inspired and informed with the latest techniques and with a vision on how Digital Marketing can be used more effectively in their business. The tips shared are ones InSynch implement every day for clients on one of our Total Digital Marketing packages.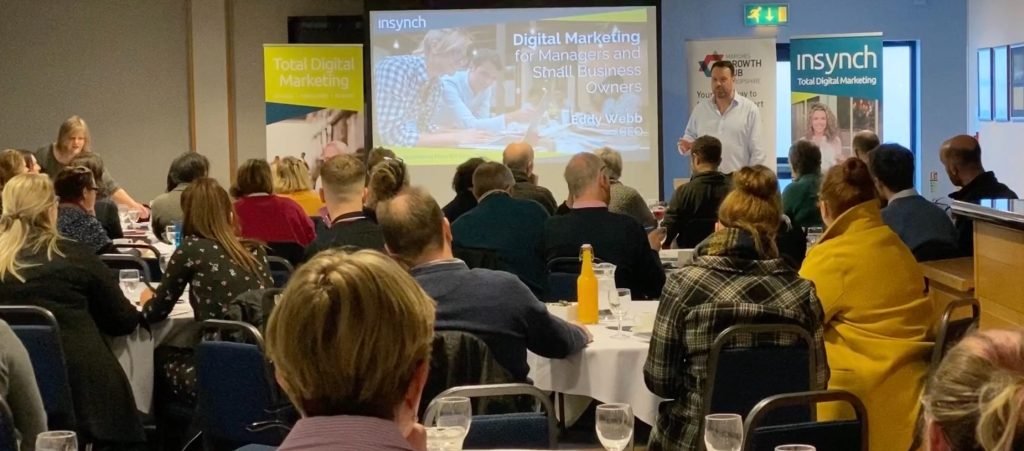 The event in Shrewsbury was a great opportunity for businesses to come along receive FREE digital marketing advice, a FREE SEO report specifically tailored to their business, website and competitors and a FREE one to one follow up consultancy session with a Digital Marketing Specialist at our InSynch office.
The Shrewsbury course was the first Digital Marketing Course for Managers and Small Business Owners of the year held in Shropshire. There are still tickets available to book onto the same courses located in Bridgnorth on the 9th March and in Oswestry on the 2nd April. Book your place using the links below:
Book a free ticket to our Bridgnorth Training Course on the 9th of March
Book a free ticket to our Aberystwyth Training Course on the 22nd of April
Book a free ticket to our Oswestry Training Course on the 24th of April
Here's what a few attendees of last weeks course had to say:
"So rare to be given so much useful information in a condensed format"
"… delivered in an entertaining and informative way"
"Very interesting and helpful insight into the digital marketing world"
"A huge amount of useful info"