Sitelink extensions
Sitelink extensions allow you to add a range of relevant pages to your ad in addition to the main page that you're trying to direct traffic to.
These are incredibly easy to update and will bulk out the size of your ad making it stand out more and pushing other results further down the page. For example, if you're advertising a specific service this is where you'd include additional relevant pages or other services you provide to up-sell the customer and may lead them to click on that link to another service, which helps improve your click-through rate. It also gives you the option to include a description with each link.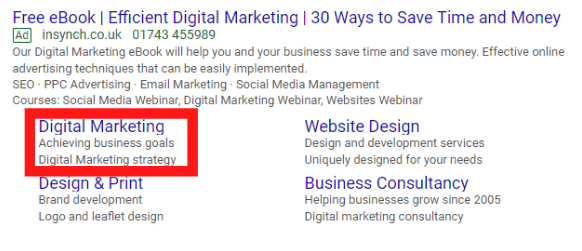 Callout extensions
Callout extensions allow you to clearly display additional features and services underneath the main ad copy. Again, this is another way to bulk out the size of your ad so that it stands out more and displays additional information. You can use these to highlight your unique selling points so that the benefits of becoming a customer with you stand out amongst your competitors.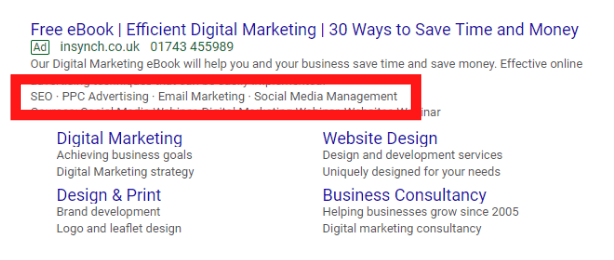 Call extensions
You can include a number on your ad so that mobile users can click to call you from the ad directly. Most people seeing your Google Ad will be using a mobile device so this is an important extension to include for potential customers to easily contact you directly. If competitor's ads are amongst yours, you really run the risk of losing out on business by not including a call extension. These can be tracked as conversions within Google Ads so that you are able to see how many phone leads have come through the ad in addition to sales/website enquiries.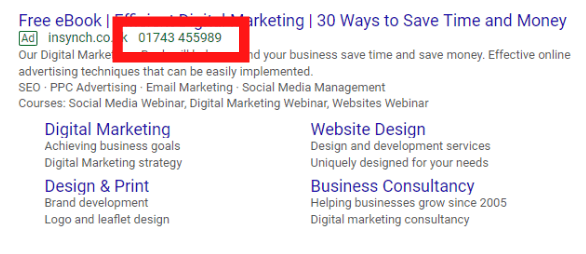 Structured Snippet extensions
Again, this is another area you can use to bulk out the size of your ad and include additional information. Structured snippets require you to select a header type such as 'Courses', 'Types', 'Destinations', 'Featured Hotels' etc. It gives you another area to outline additional services to your ad in a structured way which perhaps you may not have been able to fit into the ad copy itself. We usually set these up for clients offering services rather than products on our Total Digital Marketing Packages.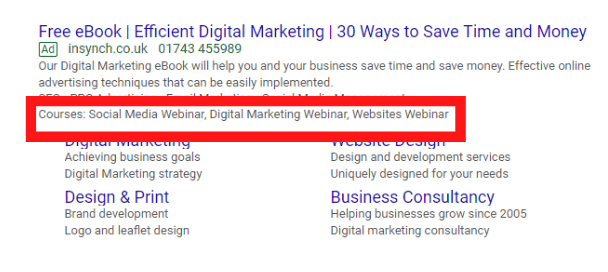 Lead form extensions
Here you directly generate leads from the ad itself by offering a discount or download incentive from which you can then build a list of email subscribers. This then fits in with an effective email marketing strategy where the subscriber is encouraged back onto the website to eventually convert into a customer. These leads can be downloaded directly from Google Ads or linked in with a CRM or email marketing system. For example, at InSynch we have used lead form extensions to generate subscribes who wish to download out Efficient Digital Marketing e-Book.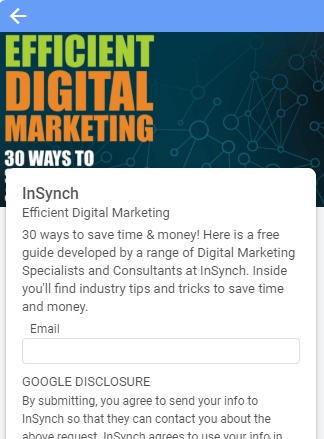 Location extensions
This links directly with Google My Business and allows you to include your location which when clicked opens up Google Maps. This is particularly useful if a lot of your business is generated by walk in customers which may wish to browse before they buy. You can also add affiliate location extensions if you have multiple stores/chains to help people find their closest one.

Message extensions
Some people may prefer to text rather than call with an enquiry. This is a feature available to mobile users who are seeing your ad if you include this extension. By just clicking on a section of the ad they can then contact you directly by text. To someone that's in a hurry to get a quote or a response to an enquiry, this option will likely seem more appealing that having to click through to the site and search for a contact form, email address or phone number, which will likely encourage them to contact you above a competitor.
Promotion and Price extensions
By using a promotion extension, you can select a time or date range for a specific promotion on a product to display. These tend to be a great extension for e-commerce sites to use to promote different offers at different times such as a specific price or percentage off.
Price extensions allow you to better showcase a list of products and their prices. These again bulk out the size of the advertisement and are a great way for e-commerce businesses to push website traffic and sales to specific products.
Click for more information on our Google Ads Management Services.