Setting up Goals in Google Analytics is a great way of measuring the success of your marketing efforts. Many businesses have Google Analytics on their Websites but haven't bothered setting up Goals in Google Analytics. However, they are crucial part of any measured digital marketing campaign.
What are Goals in Google Analytics?
Goals in Google Analytics are where you define what constitutes a successful visit to your Website. This could be when someone spends more than 5 minutes on your Website, looks at more than 5 pages, or reaches a specific page, such as a contact form thank you page. Once you have set up a Goal in Google Analytics, rather than just looking at the number of visitors to a Website, or the Bounce Rate (people who only look at one page) in order to judge how successful your marketing activities are, you can see how many times your Google Analytics Goals were achieved.
Where is a good place to look at them
In the screenshot below, you can see where this client has been getting their web traffic from. This is in Google Analytics, Acquisition, All Traffic, Channels. This is one of my favourite reports to look at Google Analytics. On the right hand side you can see the revenue they are getting from these channels. If you do sell online then you need to make sure your Website supports this feature (most do) and then turn on Ecommerce Tracking in the Admin section of Google Analytics (click the cog at the bottom left and go to view sessions on the right hand side).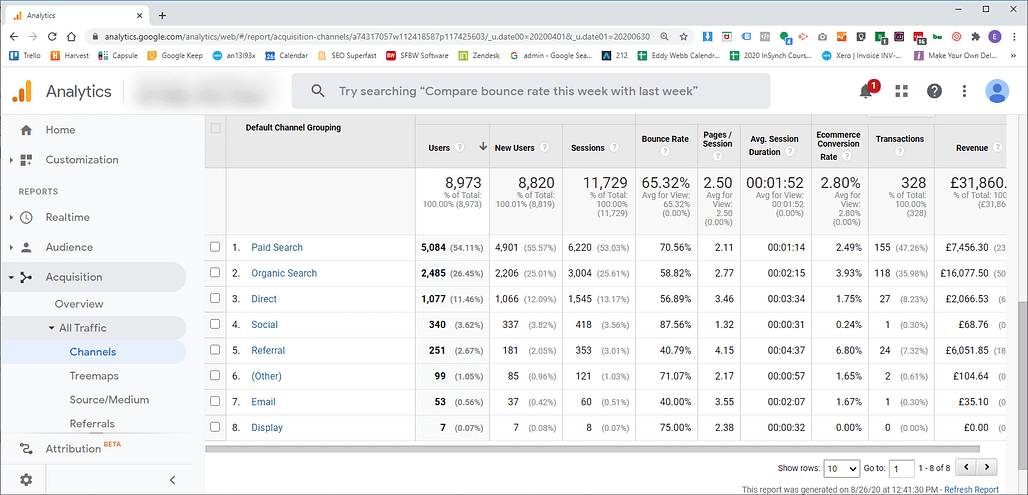 The next few screen shots show how many times the contact form has been filled in, how many times people spent more than 5 minutes on the site and how many times people looked at more than 10 pages. These are the success indicators that this company have set up in Google Analytics Goals.
Using this information, the company can see exactly which form of advertising they are doing that is leading to enquires and good website visits. Then just do more of that and less of the things that are not working.
You will also see a conversion rate for every source of traffic, for each of the Google Analytics Goals. This allows you to measure whether your Website changes have an impact on the conversion rate of your goals. This kind of measurement is fundamental to our Total Digital Marketing work.
How to actually set up the Goals in Google Analytics
Setting up Goals in Google Analytics isn't as hard as you may think. It might take you 5 or 10 minutes to do but the information you will get from this will be incredibly valuable.
Getting to Google Analytics Goals
Navigate to the cog at the bottom left of the page
2. You will find Goals on the right hand side
3. Click the Red "New Goal" button. If you don't see this then you don't have sufficient access to your Google Analytics and you will need to contact your Website developer or whoever set up your Google Analytics in the first place.
4. You will be offered a choice of templates. DON'T use these. It is actually easier to choose the custom option at the bottom. Click continue.
5. Enter a Goal Description for your Google Analytics Goal. In the screenshot below I have chosen a destination goal as I want to track if a visitor has actually completed the contact form. NB this will only work if you set your contact form to go to a new page when submitted. Most contact forms allow you to do this but most are not set up this way by default. When visitors complete your contact form they need to be redirected to a thank you page such as /thankyou.
6. When visitors complete your contact form they need to be redirected to a thank you page such as /thankyou. Enter this into the destination box as shown below.
7. Click Verify this Goal – This will tell you how many times it would have been triggered in the last 7 days, which is a good way of checking if you have set the goal set up correctly.
8. Save the Google Analytics Goal and you are done! From that point forwards you will be able to measure success more accurately.
9. There are two other Goals you should set up. A duration goal and Pages/Screens per session goal. Screenshots below.
There are many other Google Analytics Goals that you can set up but these are the main three we use on a regular basis.
Unfortunately Goals won't work retrospectively so the sooner you get them in place the better. You can then start to refine your marketing activities, based on the results you get!
We always set up Google Analytics Goals as part of our Total Digital Marketing service. Contact us to discuss how we can help you.