We all know that communication is essential to everything we do. Every day we communicate in a variety of different ways, and how your business is perceived is very much based on that communication.
Communication could be anything from trying to create positive relationships with your audience, connecting with people on a personal level or establishing yourself amongst your competition as a stand-alone business. Of course, this can be done in any number of ways, but in today's modern digital world, there is a great deal more to communication than simply talking to someone.
How easy is it to now engage and communicate with people over social media or via email?
Consider this, statistics show that over 90% of our contact with other people is non-verbal. So, having a strong brand that speaks about your business, a strong visual identity that conveys a message about your business, ideas, and values in its simplest form is key.
I'm not going to go into much detail here about Branding as I have covered "Why Branding is Important To Your Business" in another blog post, but instead, focus on how the typeface you choose for your business plays a huge role in communicating that message about your business. Put simply using the wrong font could destroy the credibility of your brand.
We quite literally, come across thousands of different font styles every day, and as a designer, I find it fascinating how font psychology can impact an audience, and feel this is worth exploring.
So, here is a quick rundown of different font categories and the unique and distinctive qualities they convey to your audience. It may seem obvious in some instances, but sadly so many businesses still get this wrong.
Once you understand that each font has its own distinct characteristics, you will be able to share those features that best represent your business.
Top Tip: Try to steer clear of default fonts, you want to stand alone from your competition, right?
Serif Fonts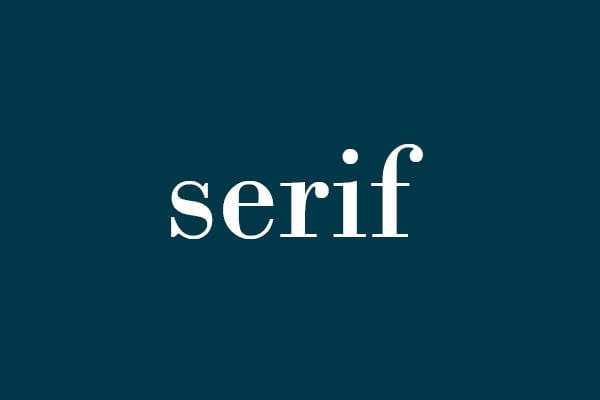 Serif typefaces are often seen as traditional and classic. Easy on the eye, they give off a sense of authority and elegance, a high-end look, promoting feelings of class and heritage. A great font to use if you want to appear established, trustworthy, reliable and authoritative. Often used for financial institutions, newspapers, academics etc.
Slab Serif Fonts
Technically classed as a serif font, but chunkier. This fonts style is most commonly associated with confidence, solidity, and boldness.
San Serif Fonts
Clean, sleek, modern, engaging and fresh. These are the typical perceptions of using a san serif font. You could be perceived as forward-thinking, innovative and creative, with the font showing clean lines with no decorative elements or fuss.
A typewriter font
Quirky, vintage, rustic, handmade, artistic, personable, approachable. This use of this type of font, I'd suggest is very much trend-led and can become quickly dated.
Script Fonts
Now, this is an interesting font to use as there are so many different styles of script fonts. It's a little fancier than a serif font. You could go for something really feminine, aged and classical or completely to the other end of the spectrum and use a modern and quirky handwritten style of script. This font can be used to showcase an organic, wholesome and friendly identity or used to evoke a whimsical and feminine look. A font style that really needs some thought about the message it portrays and one that may or may not be suitable for your business branding.
Other font styles are Modern Style such as those used on Facebook. These are designed to be simple and legible, with thin and thick transitions and sometimes have thin delicate serifs.
Display fonts are another style, usually decorative in style and custom styled. A typical example is the Disney logo.
The Insynch Design Department is available to help your business with anything from business cards and stationery, brochures, leaflets to banners.
If you have a project you'd like looking at or are confused about your brand identity and positioning, about the type of image you may be using to attract your ideal clients, or, would like some help understanding which areas of your brand you should be focussing on, whether you are looking for a new logo, implementation of your existing logo into a new website or a complete rebrand, then please get in touch.
Contact us to find out how we can help you.